NETBRIDGE: NETWORK DEVELOPMENT

A versatile low-cost vehicle network interface with 4 CAN channels, LIN/J2602 and includes SAE J2534 device drivers for network development. 
The netbridge provides standards-based engineering and development vehicle applications for EOL Testing and ECU prototyping by sending/receiving messages over the data bus to communicate with a device under test, a vehicle network, or test fixture using an open-ended 25 pin DB cable--making it the perfect CAN & LIN tool for engineers who prefer to write their own software
4 High-Speed CAN Channels, 1 Single Wire CAN Channel

Compatible with Bus Monitor and Bus Engine

Optional DG Analyzer Software for CAN/LIN Data Acquisition and Analysis Available ($1500)

Simulated LIN Master and/or Slave nodes

Realtime access on signal and frame data (read/write)

Multi-Protocol Support – Diagnostics On CAN & J1939

Selectable Speed of CAN Channels (Up to 1Mbps)

Rest-Bus Simulation, ECU test, Automated Test Systems, Software Development

LED Indicators for Each CAN Channel

Pin Assignment Label for Easy Configuration

High-Speed USB Communication to PC on High Bandwidth CAN Networks

Simultaneous Data Transmission and Reception On All CAN Channels

Monitor Operation with Timestamp Recording

Software to Validate Connectivity to Networked Devices (J2534)

Control bus from your PC application via DLL.

Compatible with LabView, Matlab, C#, Visual C, Visual Basic

Easy to Write Software

Complete J2534 Sample Source Code

Load DLL, Connect, Read, Write, Close

Electrically Hardened (Reverse Polarity, Transients)

Worry-Free, Industry-Best 2 Year Warranty!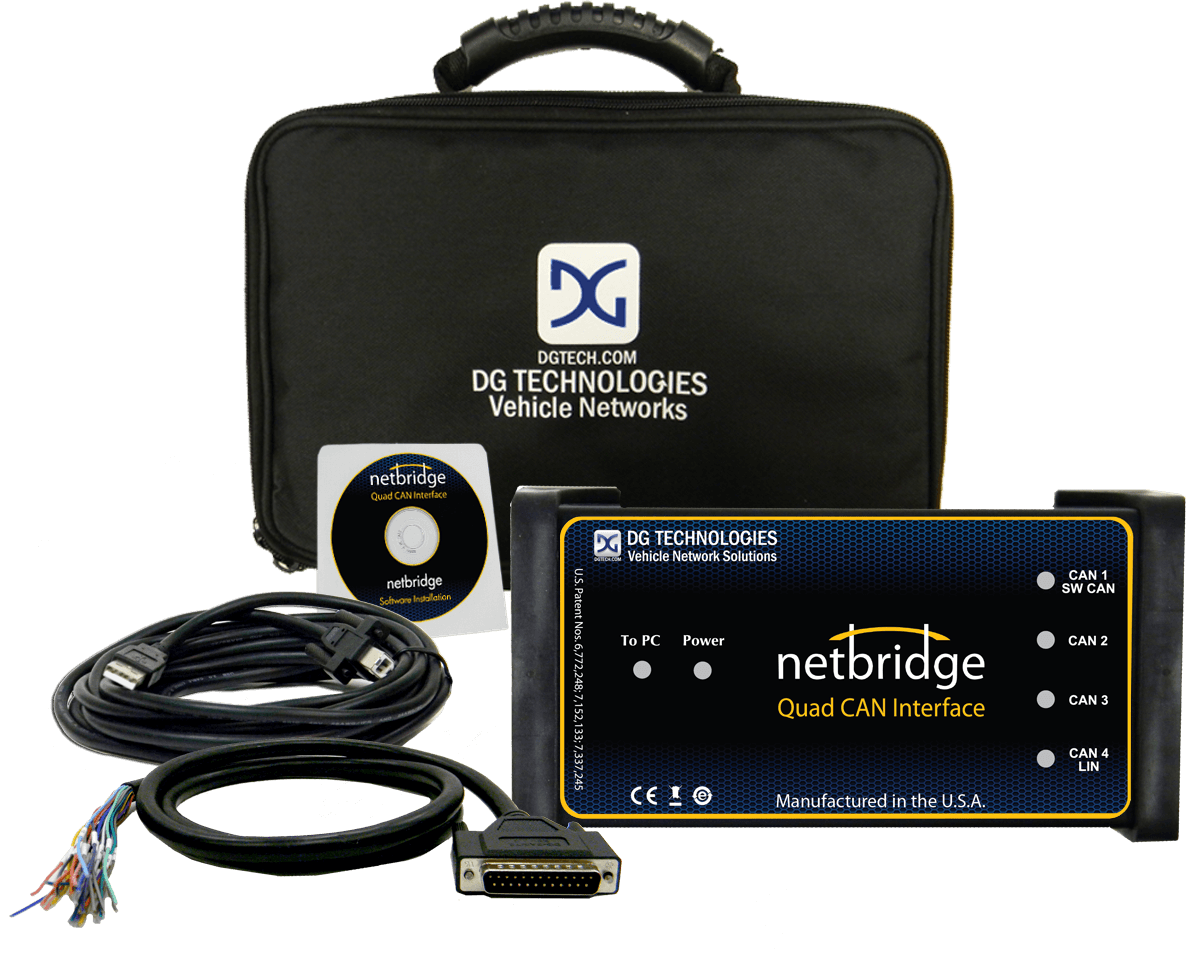 SW-CAN/ J2411

J1939

LIN/ J2602

ISO 15765
The Netbridge comes with a J2534 software package that can be used right out of the box:
DG DLM 2, a free J2534 CAN-based data monitoring and analysis tool for CAN traffic.
Data recorder, allows user to record data at the same time while application is running or in absence of application, and regardless of applications filters. Start, stop, pause, resume Recording Controls. Options to overwrite or append data, configuration for maximum file size, browse recorded data, and easily convert recorded data to Vector format.