J2534 Reprogramming & Diagnostic Interfaces Providing Mechanics, Technicians, Locksmiths & Vehicle Security Professionals with Complete Automotive Coverage for Engine, Brakes, Transmission & Body ECUs
A reprogramming and diagnostic tool used on all older automotive vehicles along with some newer makes and models.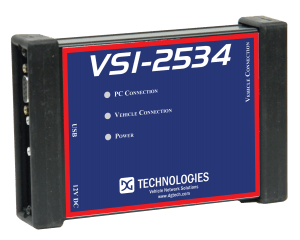 Vehicle reprogramming tools are becoming essential in automotive repair shops. Technicians often come across OEM Technical Service Bulletins require pre and post programming along with diagnostics and a confirmation that the latest OEM calibration files are on the vehicle. The VSI NxGen is used to diagnose and repair car problems such as check engine light, gas mileage, false DTCS, shifting, hesitation, rough idle, emissions quality, ABS, performance and more.