VSI-2534: VEHICLE STANDARD INTERFACE

A J2534 Reprogramming & Diagnostic Pass-Thru Device Providing Mechanics, Technicians, Locksmiths & Vehicle Security Professionals
Complete Automotive Coverage for Engine, Brakes, Transmission & Body
Vehicle reprogramming tools are becoming an essential auto diagnostic tool in automotive repair shops.   Technicians often come across OEM Technical Service Bulletins that require them to reprogram the vehicle with the latest OEM calibration files in order to diagnose and repair car problems such as check engine light, gas mileage, false DTCS, shifting, hesitation, rough idle, emissions quality, ABS, performance and more.  
Complete J2534-1 compliance with J2534-2 support
Tool provides dealership diagnostics and reprogramming with OEM software subscriptions
Out-of-the-box essential diagnostic capability using DG Diagnostics OBDII software.

VIN number, emmissions-related data, Freeze frame, data monitoring, data logging, read/clear DTCs and more!

Industry best 2 year warranty

OBDII to laptop communication using OBDII/serial cable

Adapter to PC validation software

High speed USB to CAN interface connectivity

Free personalized technical support

The only metal case enclosure on the market today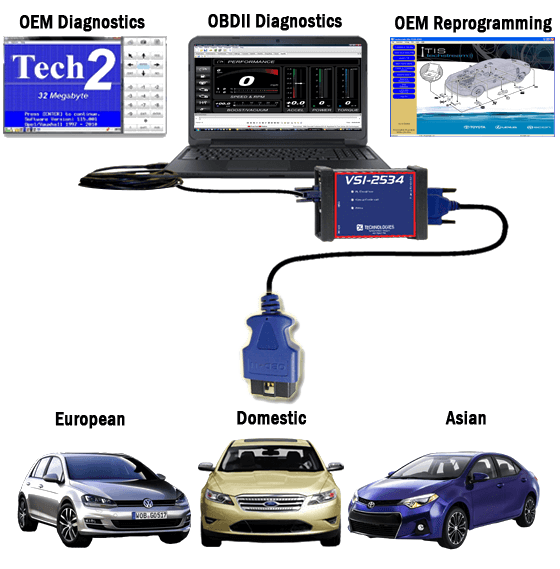 ISO 14230 (KWP2000)


 SCI and GM-UART

 MSCAN

 J1850 PWM (Ford SCP)

 J1850 VPWM (GM Class 2 & Chrysler)

CAN (ISO 11898, J2284)

 GM LAN (HSCAN + SWCAN)

 ISO 15765

 ISO 9141
For questions about J2534 Automotive reprogramming questions, visit our J2534 FAQ page.
To view or subscribe to an OEM service website to use in conjunction with the VSI-2534 pass-thru box, view the links on the OEM Reprogramming Sites page.
For OEM Subscription Reprogramming Instructions, see the "OEM Reprogramming Guides" listed on the Documents Page. 
DG's J2534 Pass-Thru devices work with various OEM Diagnostic software subscriptions such as:
GM Tech2Win
GM GDS2
VAG Offboard Diagnostic Information System Service (ODIS)
Toyota TechStream
Jaguar/LandRover IDS
Volvo VIDA
BMW ISTA
DG's J2534 Pass-Thru devices work with various OEM Reprogramming software subscriptions such as:
GM Tis2web
Ford Motorcraft
Volkswagen erWin
Chrysler Tech Authority II
Toyota Technical Information System