Breaking Out Test Signals From Light-Heavy Duty Vehicle Networks
A breakout box is a device that splits an electric multicable line into several compound connectors and is used to support integration testing, expedite maintenance, and streamline the troubleshooting process by simplifying the access to test signals.
DG Technologies has developed a heavy-duty breakout box, an OBDII breakout box, and various customized breakout boxes, harnesses and cables.
For more information check out our Breakout Box Flyer or Contact DG to design a custom breakout box to fit your needs at 248.888.2000.
Our OBDII Breakout Box gives you a practical and easy to use in-line breakout box to make an electrical connection to the vehicle On-Board Diagnostic connector (SAE J1962 or OBD connectors) without disturbing the connection between the vehicle and the tool making it possible to execute a test while simultaneously monitoring the testing process.
Using two OBDII interface connectors and standard banana plug connection points for each pin, the OBDII Breakout Box gives you access to all lines in the J1962 cable. This lets you attach multiple tools or equipment that utilize a J1962 OBD connection.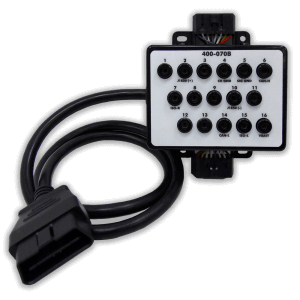 The HD Breakout Box is a DB9/DB15/DB25 to banana plug receptacle breakout matrix. All pins are wired straight through, interconnected with the other associated DB pins, and are routed to the appropriate banana plug receptacle.

The HD Breakout Box comes with both male and female DB9, DB15, and DB25 connectors as well as 6 inch pigtails allowing you to extend the connectors on the top/bottom of the breakout box.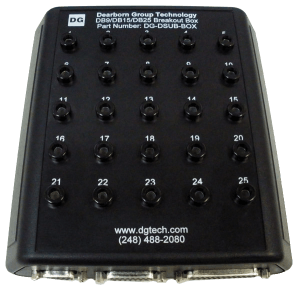 Customized Breakout Boxes, Harnesses and Cables
DG Technologies can also work with you in designing and manufacturing a customized breakout box, harness or cable to fit your needs; such as the ones featured below: