A versatile low-cost vehicle network interface for network development. 
If you work with multiple CAN channels in your development work, The NetbriDGe offers the lowest cost per channel on the market today!
The best value in CAN pass-thru device hardware. Use it for validation, network development, and test fixture to module network communication. Also a great tool for End-of-Line testing and using your own software for ECU and network prototypes. It is compatible with all of today's industry standards.
The netbridge provides standards-based engineering and development vehicle applications for EOL Testing and ECU prototyping by sending/receiving messages over the data bus to communicate with a device under test, a vehicle network, or test fixture using an open-ended 25 pin DB cable–making it the perfect CAN & LIN tool for engineers who prefer to write their own software.

4 CAN Channels

1 SW CAN Channel and 1 LIN Channel Supported

Up to 1 Mbps Capable

Supports J2534 Diagnostics and Re-flashing Applications

Rest-Bus Simulation, ECU testing

High-Speed USB Communication

Simulataneous Data On All Channels

Time Stamp Recording

JVT Software To Validate Connectivity

J2534 DLL Included

Compatible With Standard Software Packages

J2534 Sample Source Code Included

Industry Best 2 Year Warranty!
J2534

SW-CAN/ J2411

J1939

LIN/ J2602

ISO 15765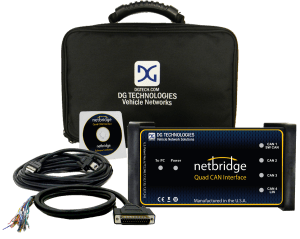 DG-NBRIDGE

DG-DPA-15U-CABLE

DG-SAINT2-CABLE

Software and Drivers CD

QuickStart Guide

Carrying Case