DG Technologies at the 2023 On-Board Diagnostics Symposium
DG Technologies was excited to take part last week in the Society of Automotive Engineers 2023 On-Board Diagnostics Symposium-Americas in Indianapolis and exchange ideas with other industry leaders on the latest emission rules and technologies in vehicle diagnostics.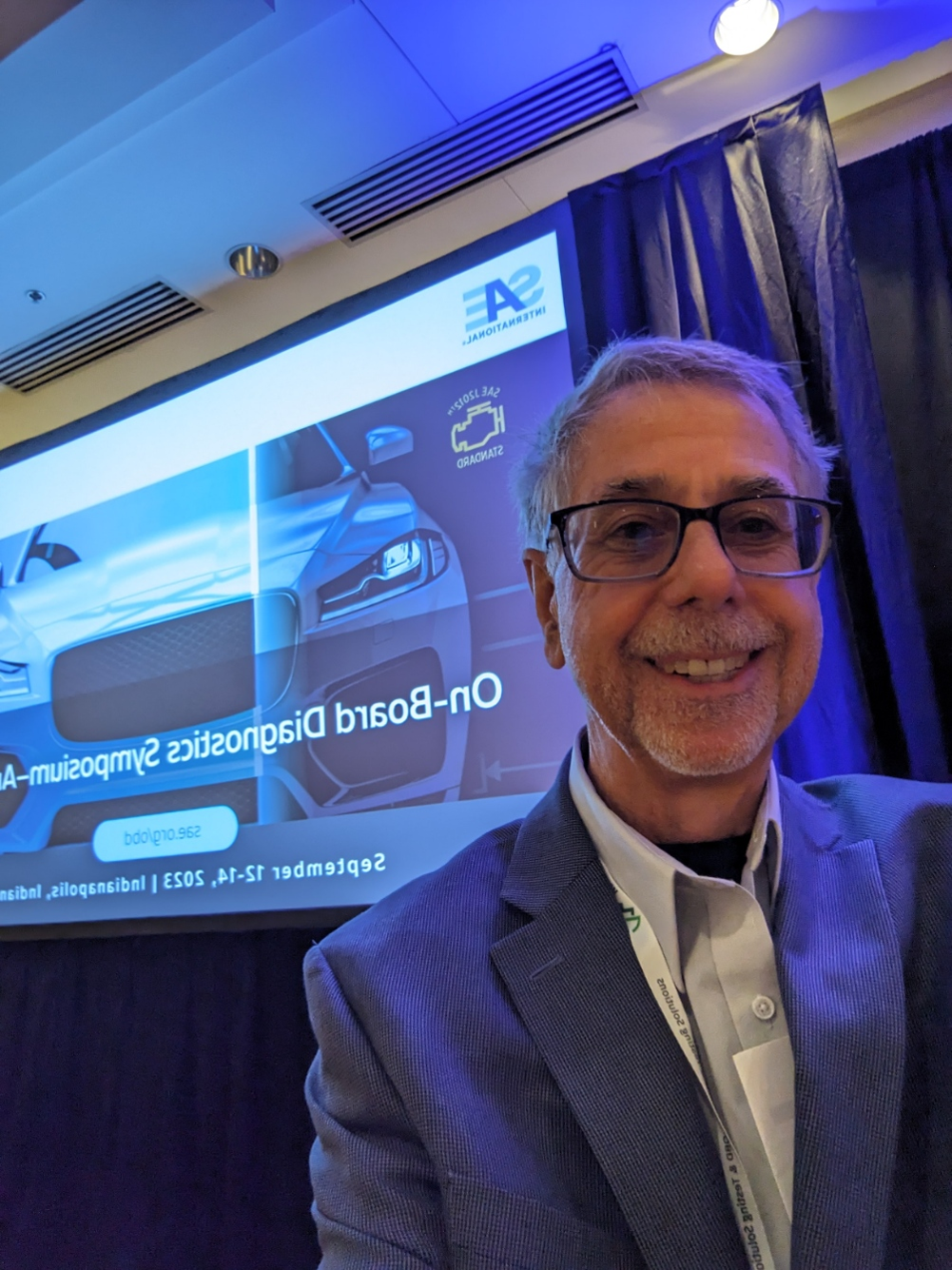 Billed by SAE as "the industry's relied upon resource – providing access to technology, standards and regulatory information for automotive engineering geared at meeting CARB, EPA and European Commission ground vehicle emissions regulations," the annual symposium brings together leaders in powertrain diagnostics from the light- and heavy-duty automotive industry and the commercial vehicle on- and off-road industry to discuss relevant and timely technical topics that directly influence ground vehicle emissions reduction efforts.

"It's one of the premier SAE events that our business goes to," said Mark Zachos, founder of the Dearborn Group and president of DG Technologies, who represented the company at the symposium. Personally, Zachos also works on OBD technology in the SAE committees he sits on. "The opportunity to learn from the industry's experts face-to-face and in person is second to none."

This year's symposium addressed updates on current and proposed rulemaking from regulatory entities from around the world, strategies being employed to ensure powertrains meet current and upcoming global regulations in North America, Europe and China, the most up-to-date global standards development initiatives, the latest on diagnostic challenges and solutions relating to zero-emission vehicles, upcoming industry trends, information on OBD systems development and SAE standards associated with light-and heavy-duty emissions controls.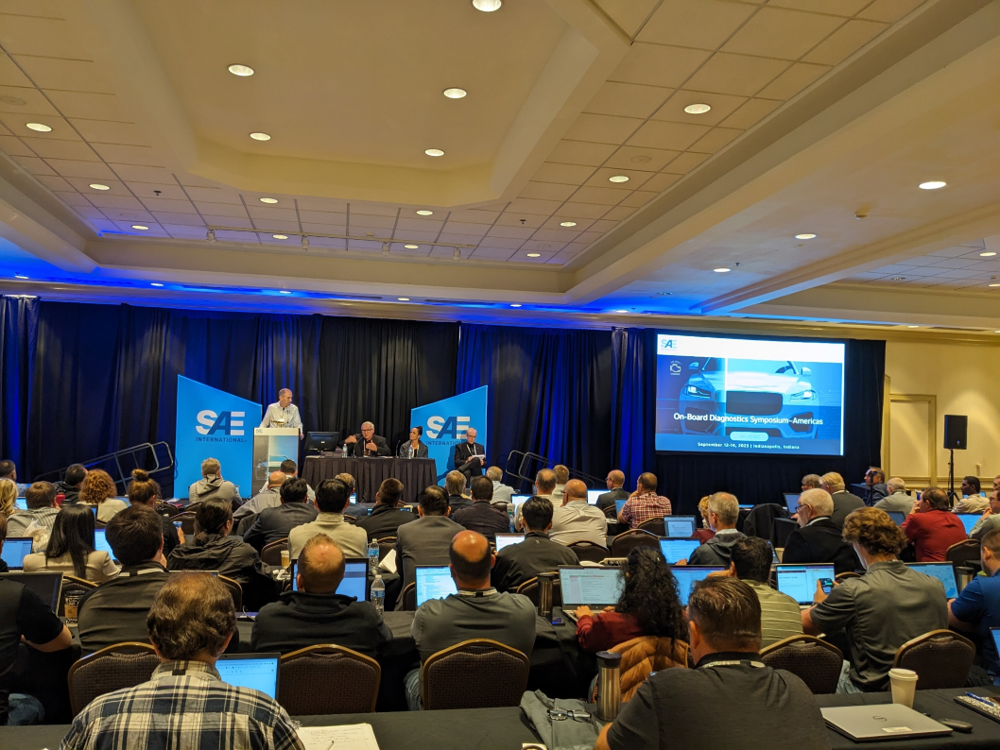 A particular challenge generating discussion this year, Zachos said, was how the industry should be working to transfer the State of California's new OBD emissions regulations for gas-powered engines to electric vehicles, for which there currently is no universal mandate.

"SAE has been a great experience," said Mark Laleman, DG Technologies' OBD regulations and diagnostics standards technical expert. "Our work on the diagnostic committees is rewarding and also provides us the opportunity to help structure the future of diagnostic communication." Although not in attendance with Zachos this year, Laleman has long been involved with organizing the event and for the last two decades has also served on the SAE diagnostic committees.

Laleman said participating in the OBD symposium is beneficial to the company for many reasons, including networking with fellow industry experts to exchange ideas about the latest regulations and making contacts with OEMs and suppliers who use DG's products or may be interested in trying them. It also gives the company the opportunity to interact with government regulators and provide DG Technologies' experience on diagnostic communication capabilities.

For Zachos's part, he serves as chairman of several technical standards teams including the American Trucking Association TMC Fleet Maintenance Cybersecurity Task Force, the SAE J1939 Network Security Task Force, the SAE J3005 (OBD dongle security) and the SAE Data Link Connector Security Committee. He also sits on the Oakland County Connected Vehicle Task Force on secure connected vehicle deployment, has authored numerous technical papers on on-board diagnostics and in-vehicle networking and holds patents on vehicle communications technology.

"Mark has a passion for volunteering and participating and that shapes the culture of DG," said John McNelis, DG Technologies sales and marketing manager. He noted that the committee and task force positions that Zachos, Laleman and others in the company hold with SAE and other industry organizations are voluntary. "It's something our company feels strongly about."

DG Technologies' tools are designed to 'Protect Your Uptime'. Find out more information and detailed literature and resources at https://www.dgtech.com/cyber-security/.

Our customers rely on DG Technologies for the most secure solutions to their maintenance, fleet and engineering needs to interact with any vehicle system. All DG Technologies solutions have a focus on security, reliability, durability, and are packed with over 30 years of company experience and expertise. Save time and money in the office, shop, or your own garage with DG Technologies products and services.

Shop Now!: https://www.dgtech.com/shop/
DPA XL: https://www.dgtech.com/dpaxl/
VSI NxGen: https://www.dgtech.com/vsi-nxgen/
Cybersecurity: https://www.dgtech.com/cyber-security/
Technical Support: https://www.dgtech.com/tech-support/
Contact Us: https://www.dgtech.com/contact-info/

Follow DG!

Twitter: www.twitter.com/dgtechnologies
Facebook: www.facebook.com/vehiclenetworksolutions
Instagram: www.instagram.com/dg_technologies
YouTube: www.youtube.com/@DGTechnologies
Linkedin: https://www.linkedin.com/company/dg-technologies_561427

For further information:

Dearborn Group Inc.
33604 West Eight Mile Road
Farmington Hills, MI 48335
1-248-888-2000
info@dgtech.com

General Contact:  

Mr. John McNelis
Sales and Marketing Manager
jmcnelis@dgtech.com