VSI NxGen Version 3.08 Is Now Available for Download!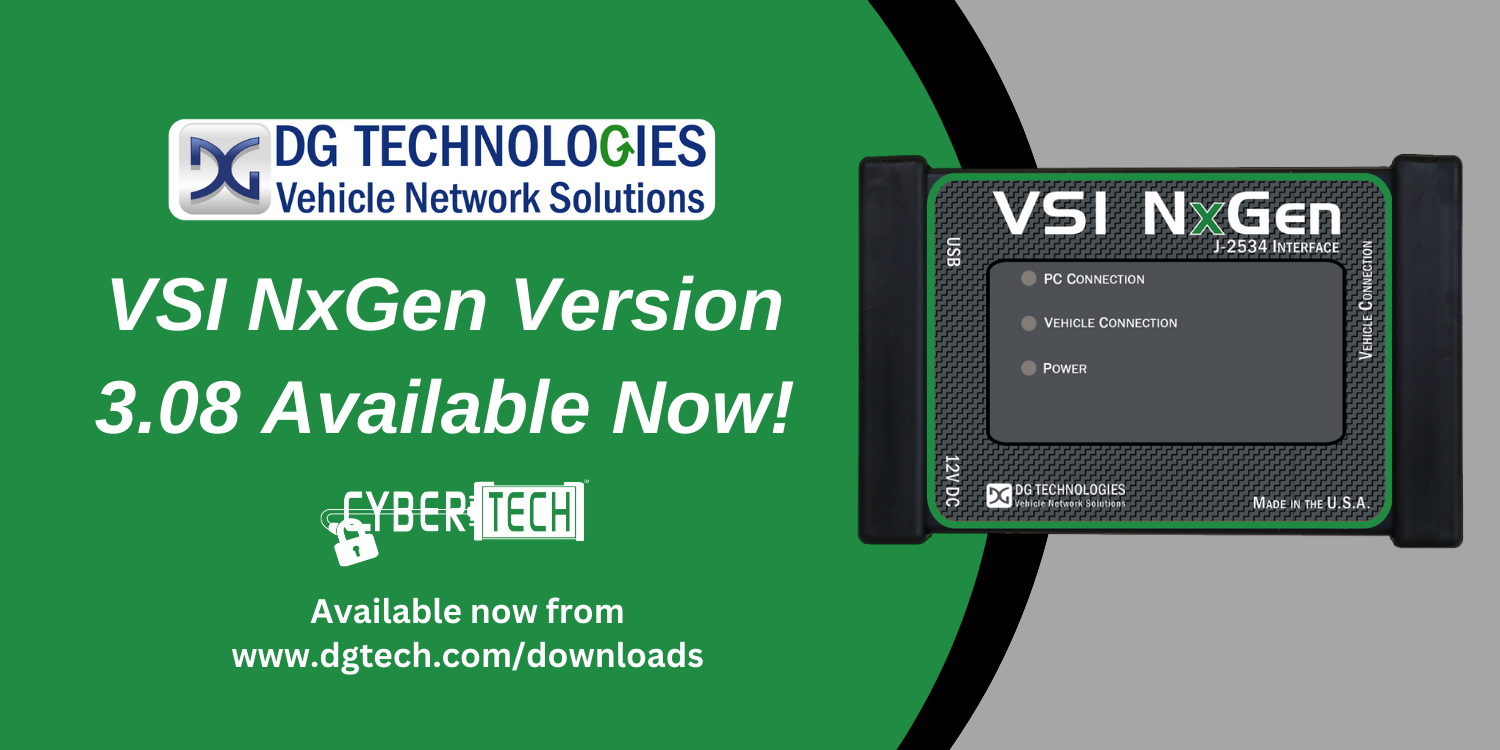 DG Technologies, #1 in Secure Reprogramming, has just released the latest VSI NxGen software update on the DG Technologies downloads page.

The VSI NxGen is DG's most current SAE J2534-compliant Vehicle Standard Interface and contains current and future technologies, secured by CyberGuard.

This new version was developed by our CyberTech brand team to provide the latest cybersecurity technology along with performance and stability improvements! The VSI NxGen supports Any Car, Any Year!

Version 3.08 features:

– New CyberGuard features
– ISO15765 support improvements
– Smoothed disconnections
– Improved the CAN receive throughput performance
– Improved heavy bus load communication performance during reprogramming
– Other minor enhancements and improvements

Our tools come complete with CyberGuard protection from DG Technologies! Download the VSI NxGen Version 3.08 at www.dgtech.com/downloads. DG recommends all users bookmark or save this page for future updating, and to follow our social media pages below for the quickest access to new products, updates and more from DG Technologies.
Contact DG sales:
John McNelis
sales@dgtech.com
(248) 888-2000
33604 W Eight Mile Rd.
Farmington Hills, MI 48335

Technical Support:
techsupp@dgtech.com
(248) 888-2000

DG Technologies
www.dgtech.com
33604 W Eight Mile Rd.
Farmington Hills, MI 48335
(248) 888-2000
Follow DG!
X: www.twitter.com/dgtechnologies
Facebook: www.facebook.com/vehiclenetworksolutions
Instagram: www.instagram.com/dg_technologies
YouTube: www.youtube.com/@DGTechnologies
Linkedin: https://www.linkedin.com/company/dg-technologies_561427